So, for start, I can say this was the worst Clan War we had so far. Match was scheduled to 17:25 GMT, FFDB came at that time, but Only Problems Appeared. We made about 3 matches but in all of 'em they left (specially FFDB I King) because we were wining/or Disconnects . We could finally play 2 clear Rounds after all and here are the results:
1St Round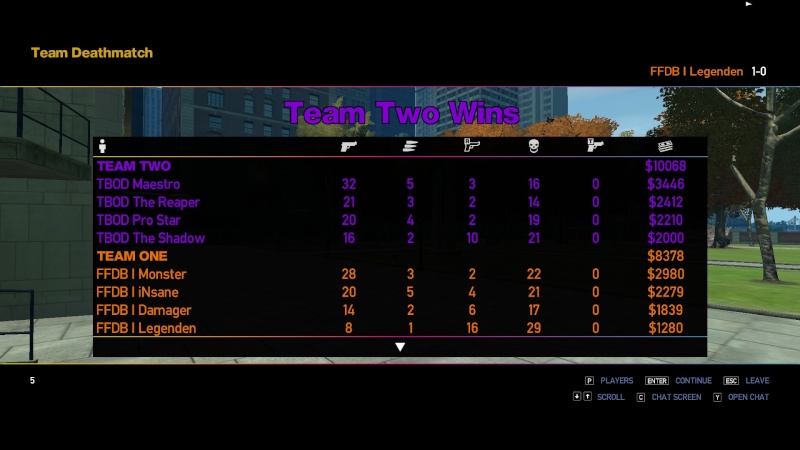 Note - No Video cause Enemy X also got disconnected.
2Nd Round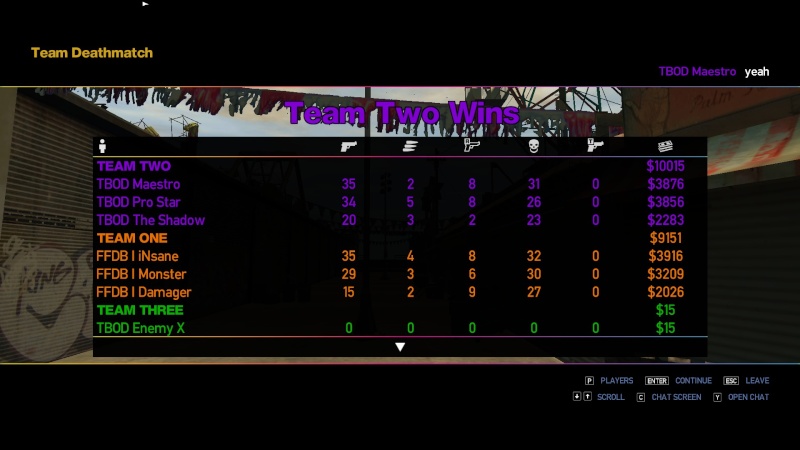 Note: No video because fucking kid The RespectNab deleted our videos in YT channel
Notes : - There were clearly that, 2 guys from XSC clan were involved in match, XSC I Bloodline played with FFDB I iNsane tagg, and XSC I King, played with FFDB I Monster tagg. They Still lost and TBOD Did an Awesome Job .
- The 3 matches before we were also winning, but FFDB Left Everytime. (Enemy X, has the video, he can upload for proof)
- FFDB also hosted those two rounds and they were full of laggs .
- FFDB I Damager = SMG Predator ( he got kicked from SMG) = qp Ambrus ( Cheater )
Proof:
http://screenshot.xfire.com/s/113026839-4.jpg
https://redcdn.net/ihimizer/i/nabs3.jpg/
(Sm Jirgees - XSC I King IP Adress)
Last edited by TBOD Maestro on Fri Apr 22, 2011 12:21 am; edited 5 times in total
The Pro Leader




Posts

: 287


Join date

: 2011-04-12


Age

: 25


Location

: Portugal



Hahaha Nice Job Guys, so Today we Pwnd 2 clans at Once FFDB and XSC .

FFDB Tried to Dumb us by letting 2 XSC Nabz to play .... They Lagged like hell but we still Pwnd em .

FFDB - The Noobiest Clan In the whole fucking History .
Nab




Posts

: 11


Join date

: 2011-04-12



Yeah we did a nice job!

FFDB totally fails!

XSC involved into match FAIL!

FFDB scared pigs still leaving!

WORST CW EVER ( but main is, that we won xD )
_________________
The Dangerous




Posts

: 306


Join date

: 2011-04-13


Age

: 24


Location

: Liberty City



Great job dudes but this CW is the biggest shit I've ever played. Theyjust left when they started to loose and they created many problems .
In general ... total Pwnage !

Ex Member




Posts

: 68


Join date

: 2011-04-12


Age

: 27


Location

: Poland



nice job guys!
i really have to say, this shit was FFDB there fault and I hope you guys get better CW's in the future.
I only was there because of a clan member asked me to join there CW because they had to less ppl, but I left after 2 rounds because FFDB got disconnected all the time, congratulations guys!
Nab




Posts

: 15


Join date

: 2011-04-12



well its true that s ip address is king ip adress bt rofl open ur mind a bit Shiraz and me are brothers
so how can we played on same pc rofl
so shiraz played on sm pc and me on my own pc
Nab




Posts

: 6


Join date

: 2011-04-12



Nice pwnage guys

(Though that XSC lamers were playing for FFDB)
Nab




Posts

: 5


Join date

: 2011-04-12



Well This was just a proof of what clan really Rulez in EFLC . Also They had luck, cause' Shadow was Hungry and he couldn't play in his real form . xD

And Btw we all know now that Shiraz = Nabeel = GTASparton = XSC I BloOdline .

_________________
Intel Core i5 750 @ 3,6GHz | PowerColor HD5850 1GB @ Stock | Antec Nine Hundred| Samsung 500GB F3| Asus P7P55D| Gskill DDR3 PC10666 Ripjaws 4GB @ 1440 Mhz Cl9 1,5v | Corsair VX-550W| Noctua NH-U12P SE2| LG W2243S-PF| Windows 7 Ultimate x64 w/ SP1

Youtube-> TheRodrigoGames

Stay Quiet!
The Pro Leader




Posts

: 287


Join date

: 2011-04-12


Age

: 25


Location

: Portugal




---
Permissions in this forum:
You
cannot
reply to topics in this forum